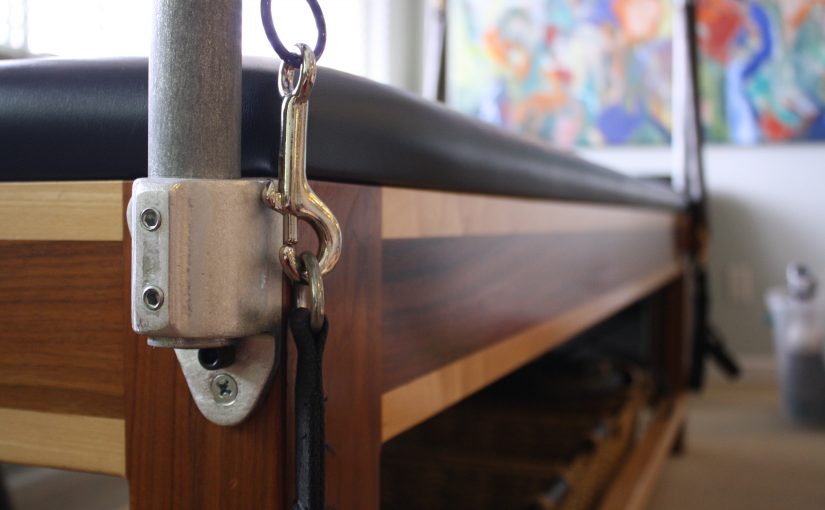 One of the most eye-catching aspects of owning wood Pilates equipment is the beautiful furniture-grade construction. It is like owning a handmade heirloom: beautiful, timeless, and durable.  
As Pilates instructors we ask a lot of the frame between dragging sitting boxes across them, jumpboard work, standing, heavy footwork or strap work.  They get sweated on, touched, left with body oil and lotion, and are often overlooked when it comes to the between-client wipe down routine.
I don't say this to scare you, the frames can certainly withstand these movements for decades and have really robust, professional-grade varnish.  But, I wanted to give you some perspective so that maybe you would consider showing your wood frame some love in return.
It's not complicated or fancy.  Here are some do's and don'ts of caring for your wood equipment:
DO wipe the wood down where clients stand or hold on to it after every session.
DON'T let body oil, lotion, and dirt build up because it becomes exponentially harder to remove over time.
DO use water only, or if absolutely necessary, your mixture of dish soap and water in a spray bottle.
DON'T use any fancy wood cleaners or magic erasers or essential oils or disinfectant wipes.
DO use a soft rag or the soft side of a sponge to wipe down (with some elbow grease!)
DON'T use anything more abrasive like the scrubbing side of a sponge, steel wool, or aluminum foil.

Check this before and after photo out. It looks pretty gross and built-up, right? But all I did was wipe with water and rag for about 10 seconds.

(All this applies to wood dowels, too, because as I've said before, wood dowels with gunk on them are practically irreversible.  Not something you want to run into.)
Next time, I'll talk about what to do if your wood frame has some gunk, stains, or scratches that won't come off. Stay tuned!