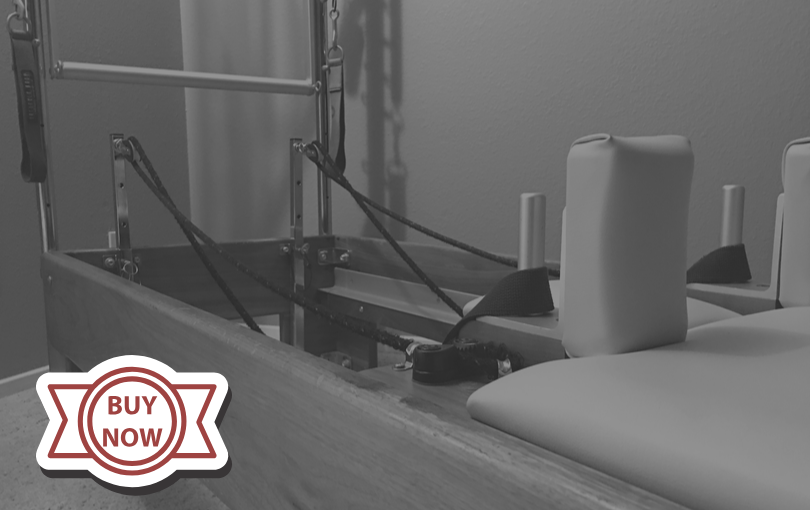 I'm sure you've heard the rumors around town. "Lisa got that Reformer for a steal! She only paid like $600!"

Kinda makes you want to buy used equipment, too, huh?

The reality is that these kinds of deals aren't terribly common, and they get bragged about so much because they are so shockingly good. Often, equipment at that price comes along when you aren't actively looking, and usually needs some significant TLC.

But, even if you can't get a shiny, new-looking Reformer for a ridiculous amount off retail most of the time, that doesn't mean buying used Pilates equipment isn't a great way to build or expand your studio on a budget.

In this blog post I'm going to give you my three tips that are often overlooked when buying used equipment.

Be patient
While the Pilates community is growing every day, used equipment is still a relatively small market, scattered across a variety of marketplaces. This means that finding a piece of used equipment that fits your teaching style and budget will take time.

Plan to spend at least one or two months looking. Check craigslist, Facebook marketplace, local Facebook Pilates forums, and sometimes even your neighborhood community apps regularly. At least every 3 days.

The best deals will come from people who don't really know what they have, and want a quick sell. But, that doesn't mean you shouldn't pay a fair price for equipment that was well loved and cared for by another Pilates professional.

Try the equipment before you buy it
It is imperative that you have a session on the equipment you want to buy before you buy it. While being flexible in the brand and model of equipment you are looking for increases your chance of an expedient and fair purchase, it can all be negated if you end up hating the equipment because it doesn't work how you want it to.

If you normally work on a Stott Reformer, try various Balanced Body, Gratz, and Peak equipment before deciding you can live with one of them. There are major and minor differences that totally change how your session goes.

From using leather straps instead of ropes, to the feel of the carriage on the rails, to adjusting the footbar and springbar, to installing and removing tower mats, to the weight and variety of springs, any of these factors or procedures can quickly become arduous and annoying.

Avoid regretting your purchase by honestly evaluating how your session on that particular model goes before you consider buying one.

Be ready to buy when you show up
Because buying used can save so much money, in the right circumstances, well-priced and cared-for equipment sells fast. This is why it's important to act with expediency when you're inquiring about an apparatus for sale.

First, as soon as you see an interesting ad, you should reach out to the seller and ask about it. Is it still for sale? Can you go test it out?

Second, if you set up a trial, make preparations to purchase and transport the equipment on the spot. Often, buyers think they can try out a piece of equipment and then make arrangements for sale and transport later, and then they lose out to someone else willing to deal right away.

Gather up a strong friend (never assume the seller will help you load), a pickup truck, and the preferred method of payment so that if you like the equipment you can take it home right away.

Even if you decide not to take the equipment home, it's worth the extra preparation to make sure you don't lose out on a good deal on the perfect equipment for you.

Want more in-depth help?
If you still have questions, especially about pricing, shipping, and inspecting a potential purchase, you can check out my in-depth PDF and audio guide on buying used Pilates equipment. It's only $20 and can save you a ton of stress and regret in the future.
Check out the Buyer's Guide, here.
Don't worry, sellers, I've got advice for you too! I know you want to maximize your sale price. I will walk you through writing an ad, pricing your equipment, and posting it in your very own PDF and audio guide. Just $20 now can help earn you hundreds more in your sale.
Check out the Seller's Guide, here.

Happy Reforming!